A Quick Guide to Accounting Software for Small Businesses
With rapid technological advancement, the days of thick ledgers are nothing but gone. Almost every start-up today begins operations with at least a basic accounting software before outsourcing their bookkeeping entirely. The benefits of accounting software are endless while most of these tools are easy to procure and hassle free to use. Preferred by almost every business head today, these tools are a great way for cost cutting and accurate management of funds for small business owners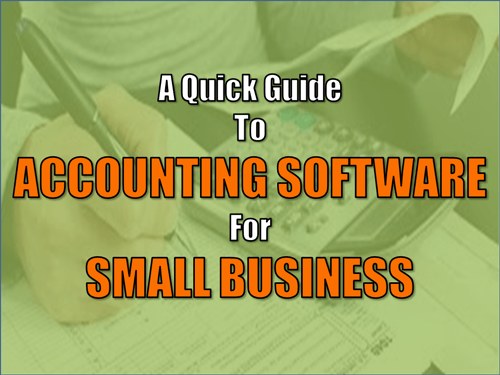 The Benefits of Accounting software
It's certainly not easy to pick up the best accounting software with so many highly acclaimed choices available at affordable prices in the market. But before you make a choice for your business, you must consider a few things like capability, compatibility, expandability and cost of the accounting software.
How to Select the Best Accounting Software
The basic thing to do before buying an accounting software is to identify your needs and the tasks that you want the accounting software to perform. Before investing in the accounting software, you must check whether it is capable of performing basic audits like payroll and taxation reporting, invoicing and more complex tasks such as record keeping of client's information. Make sure that the software you are buying is compatible with your current version, or the device and operating system where you want to run it.
As your business grows your dependence on the accounting software also increases, so investing in a package that allows affordable add-on updates to accommodate future needs is the best bet. Try looking for a software package that allows optional add-ons. Doing a background check on the manufacturer's reputation and the way it handles its customer service is also advisable, for once you install the updates you would probably need expert guidance to avoid troubles.
Importing existing data to the new version is another important thing to look into before buying a new accounting software for your business. An ideal accounting software must be capable of importing and running old spreadsheets with significant ease. Cost is another decisive factor for buying an accounting software. Make sure the product you are buying allows cheap updates and a seamless customer service: comparing prices and digging deeper for customer reviews on the web is the best way to settle on a choice.
Top Accounting Software
There are few free accounting software available with very limited features, for instance Wave and Simple Invoices, so you might like to invest some money to buy an upgraded accounting software for your business if you have more complex needs. Paid accounting software provides easy to use customizable tools for quick financial audits for small organizations and saves time and money for the do-it-yourself-type business owners.
While the open-source accounting tools are an awesome way for easy financial documentation for businesses in the primary phase of growth, these tools comes with their own limitation and requires upgrading as you grow. For complete bookkeeping solution, small business owners need premium software that can solve all their needs at a disposal of few clicks. Here are a few accounting tools that we'd like to recommend for small and medium size businesses.
FreshBooks
Fresh Books is a cloud based accounting solution and can be accessed on both mobile and desktop devices. It allows small business owners to track expenses and send invoices at will. You can import expenses from bank accounts or credit cards with ease and integrate PayPal and several other payment gateways for quick acceptance of payments from clients and customers. It has endless features for data encryptions, automatic data backup and to generate multiple reports for various purposes instantly. Various add-ons can be installed with FreshBooks for performing different small business tasks, but it is not ideal for managing large inventory and can manage only up to 25 clients, which is its only con.
Xero is the hero of small business owners, as it makes managing books seamless than ever. Particularly designed for small business owners, this application is ideal to manage invoices, customer payments and other expenses. It also has features for payroll and inventory management, while you can also import reports on this web based application. It can be integrated easily with a wide range of E-Commerce applications for timely, automated and easy management of funds.
The popularity of this desktop based accounting software is profound while the raving reviews it has garnered are paramount. Ideal for performing almost all types of accounting tasks on the go, you can generate custom invoices with company logo, expense reports, and payroll and tax audits anytime, anywhere. It has features for billing and payment tracking and bookkeeping collaboration, and you can even perform complex tasks from a mobile based device. Though you have to install add-ons to enjoy upgraded features, this tool is still the best for basic accounting audits for small business.
TaxMate
It is a mobile based application that provides quick quarterly reports for tax estimates. It uses a simple step-by-step questionnaire method for gathering data and can be used conveniently by users. This app quickly calculates the accurate tax amount as per the information provided by the users. This is a free application and can be accessed right away from a smartphone's web browser without any download or installation. We recommend this tool for individuals, sole traders and micro business companies.
Kashoo
Kashoo supports double-entry accounting and can be accessed by multiple users without any extra surcharge. It has features to gather data from banks and can track credit card transactions. Kashoo's traditional accounting methodology is ideal for users looking for an easy to use reliable solution while its ability to perform multiple tasks makes it a safe bet than other tools in the market. Despite its inefficiency to perform complex tasks and manage huge inventory, this tool enjoys a raving popularity among small business owners due to its limitless features at a comparatively low price.
Saasu
Saasu is a cloud based application intended for large, medium and small size businesses. Compatible with multiple platforms, this application works well for invoicing, reconciling bank accounts and accepting online payments from different gateways. It is capable of generating complex reports and has features for payroll tax computation.
Hiveage
One of the best invoicing solutions available in the market, this tool allows users to cut down their accounting cost and lower financial risks. It computes the tax amount you owe at the end of a quarter by following easy steps, and is ideal for a small organization of 1-20 employees. It gives you appropriate time to grow and takes off the burden with its amazing features that include sending invoices, accepting online payments, autobiling subscriptions among several others. You can add more features to this tool as per your need over the time at an additional cost.
Buy this software if you have multiple needs like project tracking, task management, collaboration and payment processing. It is a web based application and can be accessed on the go by multiple users. This product works fine for entrepreneurs and freelancers, but for companies willing to manage huge inventory, it is not ideal. It tracks time, tasks, projects and accepts payments from several gateways. You can also import multiple reports and invoices with this product.
Yoho Books
It is a cloud based accounting software ideal for entrepreneurs who rely on financial documentation and reporting. It can be accessed from anywhere, anytime while its efficiency lies in its ability to perform multiple accounting tasks on almost all devices and platforms. It downloads bank data automatically for stringent reviewing and allows users the choice of using company logo and customized templates along with option of online payment.
Clear Books
Clear Books is one of the cheapest bets you would ever find for your accounting needs. Clear Books works as a cloud based accounting tool for individuals and businesses that are young. It generates quick and hassle free reports of multiple kinds and works smoothly for its cheap price. Packed with multiple features for a complete accounting solution, the prime factor that sets it apart from major rivals such as XERO among others is its price.
Simple Invoices
Simple Invoices is a free tool for accounting, designed by keeping small businesses in mind for easy management of invoices and basic financial reports. The customizable invoices that it creates can be imported in various formats, and you can also send invoices via email by this open-source application. Simple Invoices can also accept payments via PayPal and other payment gateways and help users in creating estimates and quotes for financial documentation.