What's the Importance of Accounting Software for Your Bookkeeping
Transforming a start-up into a successful enterprise is a formidable task: it not only requires calculated risk taking and visionary charting of growth plans from business owners, but also needs intelligent management of funds. Many start-ups fail within first few years of functioning for reasons particularly related to finance mismanagement.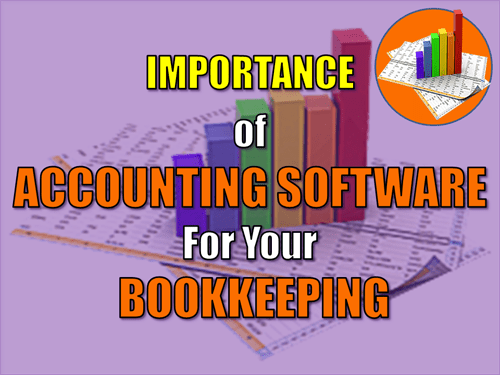 Importance of Accounting Software for Your Bookkeeping
Management of funds is one crucial aspect of any business, be it a start-up or an age old thriving enterprise; failure at it results in major setbacks. Majority of our clients have qualms about managing their accounting digitally while many of them are actually not aware of the importance of accounting software available in market.
Several tools and easy to use accounting software make things easy for business owners in this modern age. These tools are the best precautionary measure against impedances such as financial risks and mismanagement of funds. Accounting software not only takes away the burden of bookkeeping and accounting, but also performs basic tasks with outmost accuracy before you transform into something big, and get potentially ready to hire a pro or outsource your bookkeeping to an accounting service or bookkeeping firm.
As a startup, you must get a reliable accounting software to track your business growth and manage funds and inventory as soon as you begin. For more information about reliable accounting software, check out our quick guide to accounting software, however in this post you'll get to know about the top benefits of accounting software for your business.
Accurate Financial Details
Computerized accounting assures flawless accounting. The automated accounting software leaves very little scope for errors, making bookkeeping more detail oriented. With the help of these tools, you can import precise financial reports for reviewing your progress and monitor your business policy accordingly.
Do More in Less Time
Digital accounting is less time consuming and more efficient than traditional paper based accounting. You can share your financial reports with multiple users and eventually hire an expert accountant to keep check of your funds. This leads to better management of time, allowing you to invest more time to grow.
Real Time Records
With a reliable accounting software, you can actually access relevant data in real time without much hassle. Most accounting software allows you to keep all your financial records at one place, and you can access them from anywhere, anytime. This helps best at time of tax audits. Once you have all your financial reports at one place, it's easier to calculate the tax amount that you owe at the end of a term.
Monetary Savings
With a streamlined accounting methodology, you save a lot of time spent on feeding entries into the system. Most accounting software are highly convenient to use and you can manage them with little training and almost negligible assistance. This helps you save money on a full time accountant and at the same time, you save time on calculations of balance sheets and transactions as the process is automated by the software. The more time saved is the more money made.
Assistance in Visionary Decision Making
Almost every accounting software feature provision for generating useful information for developing long term qualitative business growth plans. Systematic financial reports allow business heads to take visionary decisions and manage investments and capital with foresightedness. You can plan your growth according to the money you make and let your business grow without any risk.
The benefits of accounting software are limitless to list and hard to ignore. Apart from these aforementioned aspects, accounting software adds value in several other ways to your business. Your business would eventually need professional assistance for its bookkeeping needs but you can help yourself by investing in a quality accounting software and save time and money during the initial growth phase of your business. So before reaching the level where you need to outsource your bookkeeping, start doing the homework with these awesome tools.