Remote accounting services for quick access of information
Outsourcing financial and accounting services has been considered most elementary part of an enterprise. In this competitive global environment, Financial & Accounting Outsourcing firms are demanded to ensure effective and successful operations for order to cash, procure to pay and order to report cycles, payroll and transactional activities such as internal auditing, budgeting and many more. All of these services are considered to maximize ROI and channelize business functions so that advanced results can be acquired.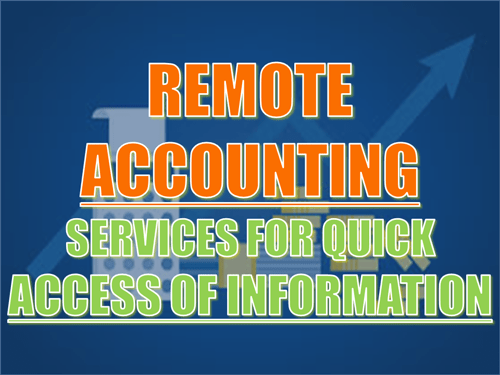 Remote Accounting Services For Quick Access for information
Today, Remote accounting services are implemented being an easiest and the most effective approach to connect clients and their data. It is moving ahead as a solution that helps in getting maximized technology and efficiency. It proffers a quick access to the accountant to have client's information. It saves time used in managing data and handling technical issues. Client can upload their files to F&A firms or can share with QuickBooks software. It let their accountants to get and access file instantly.
When file is uploaded via remote accounting services, accountant gets an alert through reference number of clients. After logging and saving that file in computer or server accountants of financial & accounting firms opens file and work on that. This latest technique used for accounting services enhances better utilization of software and improved human resource allocation. Consequently, efficient, accurate and minimal cost of accounting system helps in running a business effectively and timely.
Today almost all financial and accounting outsourcing firms are proffering this service to its wide-reaching clients of diverse business