Achieving operational efficiency by outsourcing your bookkeeping
Operational efficiency of a business could be understood as the ratio between input to run a business establishment and output gained out of the business. Inputs are money / cost, manpower, time and energy whereas outputs are money / profit, reputation, customer affection, brand image and product acceptance in the market.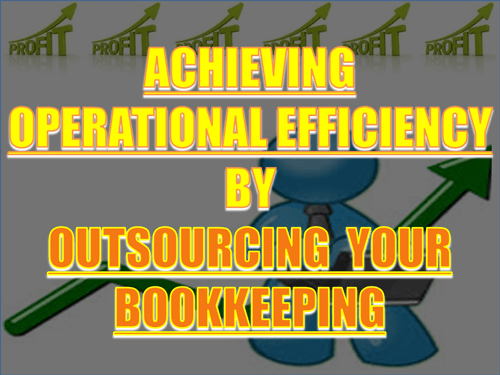 Achieving Operational Efficiency By Outsourcing Your Bookkeeeping
In order to achieving the desired outputs, inputs in terms of certain processes involving cost, human resources, time and energy are essential. For ease of understanding, such processes could be categorized as principal processes and auxiliary processes. Principal processes are based on the core strengths or competencies of any business. Auxiliary processes are based on non-core activities like human resources management, accounting and bookkeeping, payroll processing, order processing, customer/client servicing etc. In nutshell, these are mainly back-end operations which strengthens the business performance.
Bookkeeping is one such very important backend operation which is also the backbone of a business and we at bookkeepingmonster.com perform this function with utmost efficiency. It is the process of recording financial transactions of a business. It is very important to manage it efficiently for the success of a business. Any sort of misappropriation in financial management can lead to great troubles. Outsourcing bookkeeping and accounting could be a step towards achieving efficiency in managing this process.
One of the greatest benefits that bookkeepingmonster.com offers is that it creates opportunity for the accounting to be managed by experts in the domain. The accounting service providers would engage the best known professionals for the work that would help in achieving process efficiency. Larger the pool of experts, the better would be the knowledge pool. The expertise and experience of experts would function together to provide better results that are also legally complaint.
Since the team of experts working on managing the accounting process of any firm would be external entity, they would be free from organizational dynamics and biases. This would help in providing objective point of view about the financial situation of the organization. Such an arrangement also encourages efficient decision making to arrive at effective financial solutions for a company.
Outsourcing helps in increasing the efficiency of planning processes since there would be a mix of experts who would be working to provide an all round solution for a firm's financial issues. Capital budgeting, business strategy and long term financial planning propels the consolidation of a firm's capitalization structure.
Hiring a team of real time professionals and managing an entire department to achieve all the above-mentioned objectives would be really resource intensive for any business unit. At bookkeepingmonster.com we have a team of experts to cater to the need of each and every client. We understand that our entire client's need different kind of services and so we work to give them that. Outsourcing cuts the cost to a greater extent by providing packaged services at comparatively cheaper costs.
Internet revolution has brought such services at door steps. At the blink of an eye, service providers could be located and contacted. Having a reliable advisory team at the behest is always advantageous. Outsourcing bookkeeping and accountancy helps in achieving operational efficiency to a much greater extent. Bookkeeping monster is one such experienced firm which was founded way back in 2001. It provides financial services for small and medium enterprises across the globe. It provides a variety of services for the benefit of business enterprises and maintains a higher level of excellence.