Benefit of Outsourcing Accounting Services
Accounting outsourcing has gained high acceptance today among all size of business houses and across industry verticals. With availability of online platforms and accessibility to distant locations through online communication channels, outsourcing of accounting and financial related processes has become a reality of today.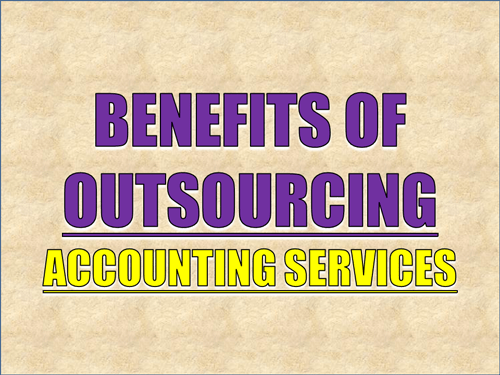 Benefits Of Outsourcing Accounting Services
Business houses have been realising fast that accounting being a non core business process coupled with availability of skilled working professionals from different low cost economies, has helped this drive of outsourcing accounting services pick up pace in today's competitive business environment.
With outsourcing accounting and bookkeeping services to low cost countries like India, business set ups can at one end manage available resources better (both in terms of time and money) and also ensure quality service.
Today, accounting outsourcing is not limited to offshore bookkeeping, but slowly the entire accounting processes are being considered for outsourcing by business set ups across the globe. Business houses are looking to outsource the entire A/R – A/P – Payroll processing and other aspects of accounting processes including bank reconciliation, invoicing etc relevant for a business depending upon specific needs.
The other key element which is true for all outsourcing activities is the time-zone advantage which an outsourcing function carries. Accordingly, off-shoring accounting and bookkeeping function also helps having updated accounting records in real time by taking advantage of such timing differences.
Again, availability and increasing popularity of online accounting interfaces including Quickbooks Online, Clearbooks, XERO, MYOB Live Accounts including remote access to desktop packages like Quickbooks, ERP packages and SAGE etc has further helped channelize the accounting outsourcing services and its efficient management for effective continued support.